Cell transcriptomic atlas of the non-human primate Macaca fascicularis
Lei Han, Xiaoyu Wei, Chuanyu Liu, Giacomo Volpe, Zhenkun Zhuang, Xuanxuan Zou, Zhifeng Wang, Taotao Pan, Yue Yuan, Xiao Zhang, Peng Fan, Pengcheng Guo, Yiwei Lai, Ying Lei, Xingyuan Liu, Feng Yu, Shuncheng Shangguan, Guangyao Lai, Qiuting Deng, Ya Liu, Liang Wu, Quan Shi, Hao Yu, Yunting Huang, Mengnan Cheng, Jiangshan Xu, Yang Liu, Mingyue Wang, Chunqing Wang, Yuanhang Zhang, Duo Xie, Yunzhi Yang, Yeya Yu, Huiwen Zheng, Yanrong Wei, Fubaoqian Huang, Junjie Lei, Waidong Huang, Zhiyong Zhu, Haorong Lu, Bo Wang, Xiaofeng Wei, Fengzhen Chen, Tao Yang, Wensi Du, Jing Chen, Shibo Xu, Juan An, Carl Ward, Zongren Wang, Zhong Pei, Chi-Wai Wong, Xiaolei Liu, Huafeng Zhang, Mingyuan Liu, Baoming Qin, Axel Schambach, Joan Isern, Liqiang Feng, Yan Liu, Xiangyu Guo, Zhen Liu, Qiang Sun, Patrick H. Maxwell, Nick Barker, Pura Muñoz-Cánoves, Ying Gu, Jan Mulder, Mathias Uhlen, Tao Tan, Shiping Liu, Huanming Yang, Jian Wang, Yong Hou, Xun Xu, Miguel A. Esteban, Longqi Liu. Cell transcriptomic atlas of the non-human primate Macaca fascicularis. Nature. 2022 April 13. DOI: 10.1038/s41586-022-04587-3.

Studying tissue composition and function in non-human primates (NHPs) is crucial to understand the nature of our own species. Here we present a large-scale cell transcriptomic atlas that encompasses over 1 million cells from 45 tissues of the adult NHP Macaca fascicularis. This dataset provides a vast annotated resource to study a species phylogenetically close to humans. To demonstrate the utility of the atlas, we have reconstructed the cell–cell interaction networks that drive Wnt signalling across the body, mapped the distribution of receptors and co-receptors for viruses causing human infectious diseases, and intersected our data with human genetic disease orthologues to establish potential clinical associations. Our M. fascicularis cell atlas constitutes an essential reference for future studies in humans and NHPs.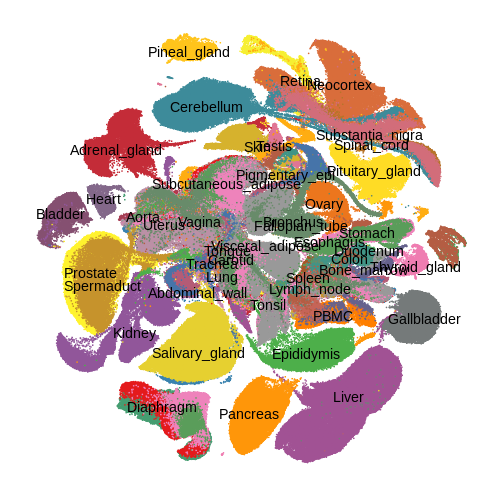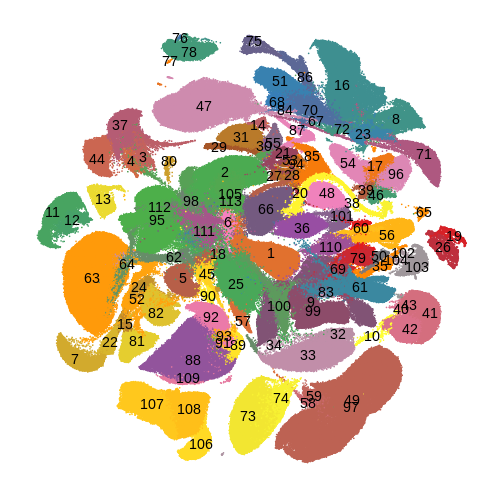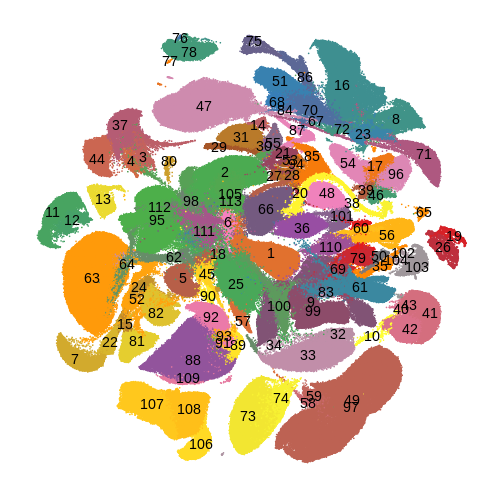 These are marker genes for each cluster.